One of the most personal choices you can make with a rifle like the Springfield SAINT is the trigger. Today, we are going to add a Daniel Horner Signature Two-Stage Adjustable Trigger from Timney Triggers to a SAINT Victor AR rifle.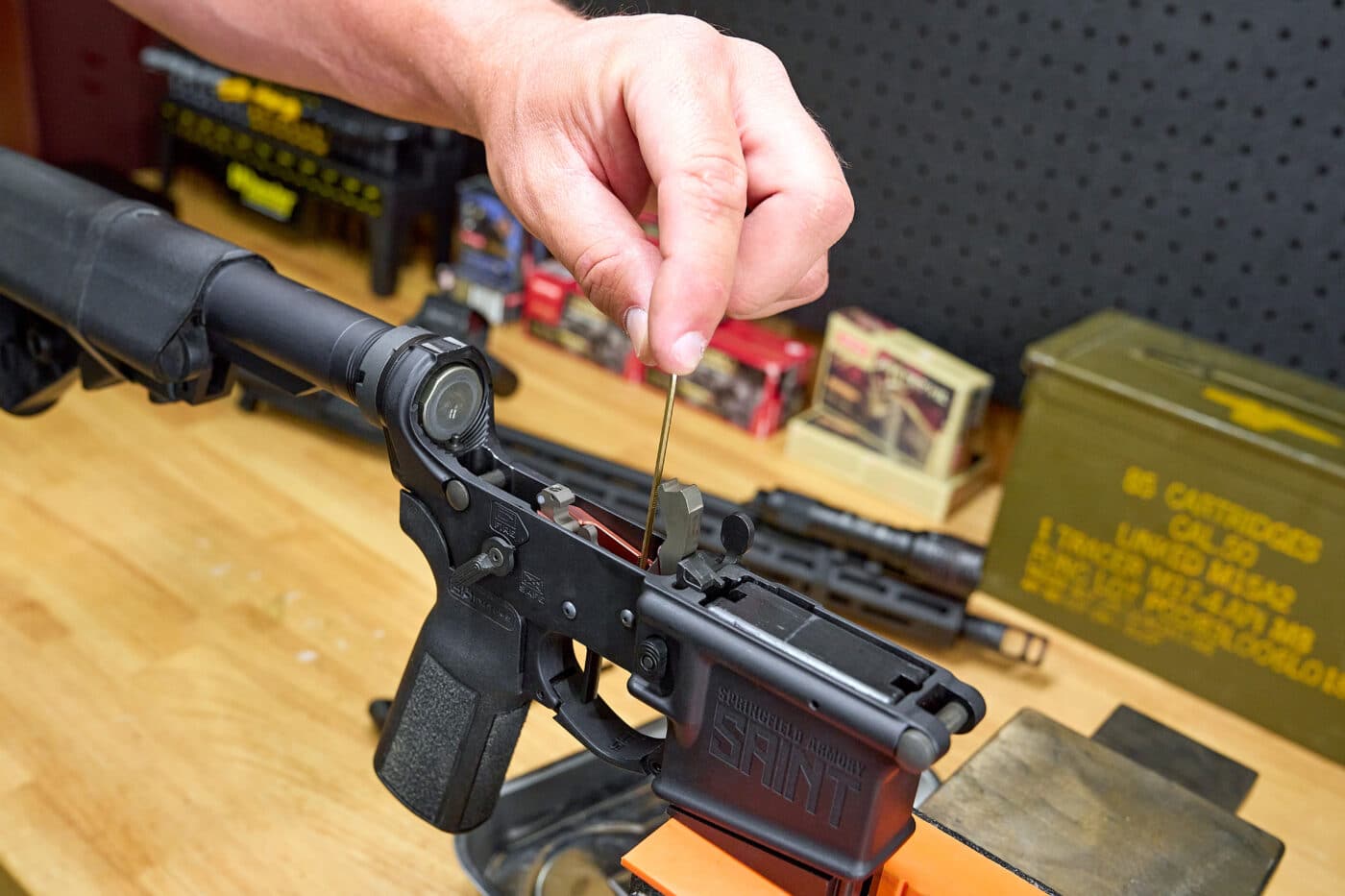 Now, if you don't know about Timney triggers or who they are, a quick bit of info is that they are both the largest and oldest trigger company out there. Timney is based in Phoenix, Arizona, and offers a broad range of triggers for a wide variety of firearms.
The decision to add a custom trigger can be a daunting one with so many options being out there today. Some of the things you are going to need to narrow down are what you are looking for and what is your application — from competition to hunting and everything in between. Depending upon your purpose, there will be big differences in pull weight as well as trigger design and materials.
Once you determine your desired preference on single- or two-stage, you can then go to pull weight. If you don't know what a two-stage trigger is, it's just a trigger that has a very light and short initial pull that then meets a defined trigger wall. At that point, it acts like a normal single-stage trigger from there.
When taking weight of pull into account, remember lighter is not always better; you may be more comfortable with a heavier weight or lighter weight. That is all up to you, and this is where adjustable triggers are nice.
Designed with Input
This specific Timney trigger is their top of the line two-stage adjustable model designed with the input provided by Daniel Horner. If you don't know who Daniel Horner is, you need to. He is one of the fastest competitors out there and was part of the U.S. Army Marksmanship Unit. Needless to say, he knows a thing or two about triggers.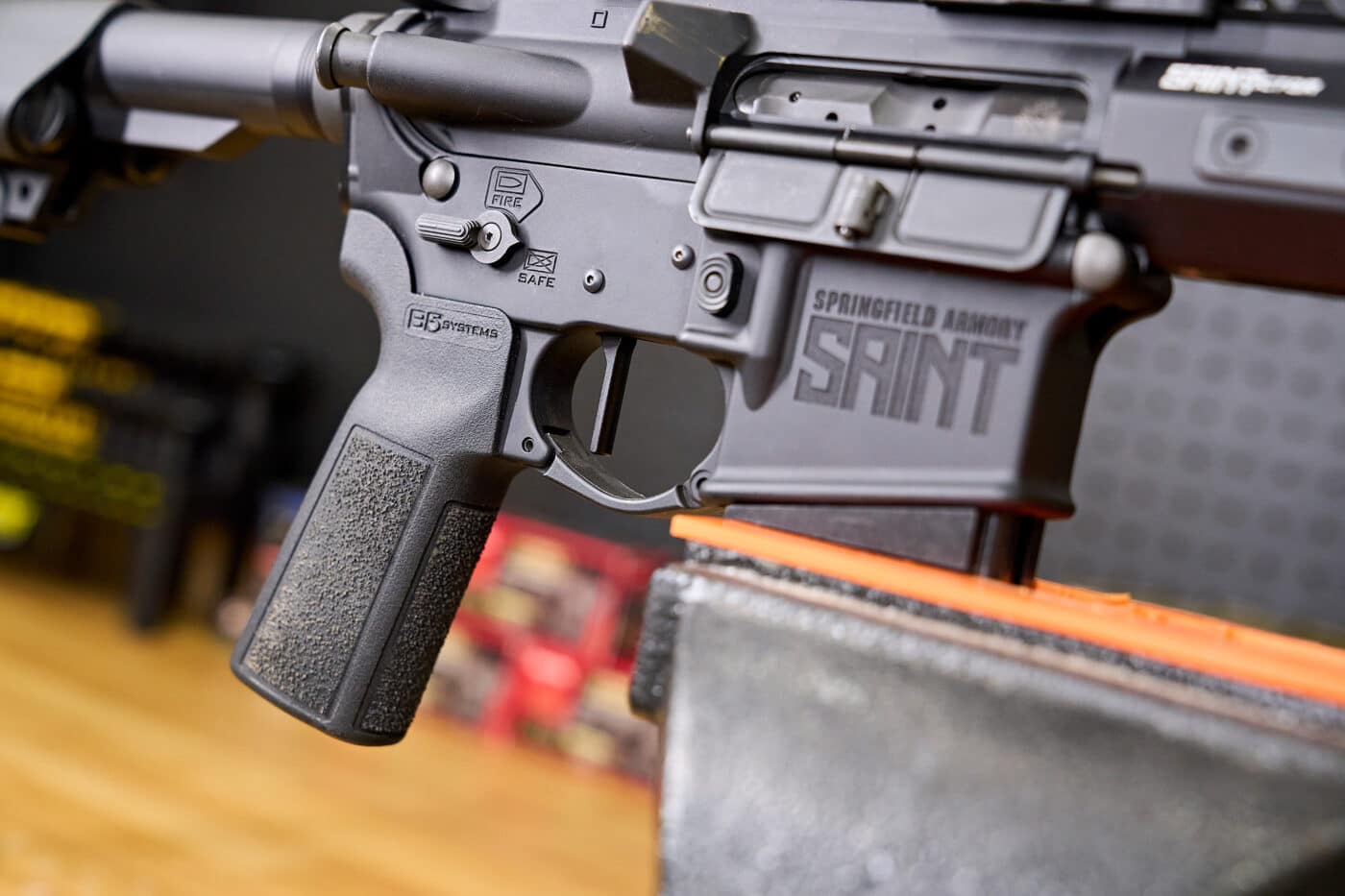 This trigger is a beautiful orangish bronze color, which is a favorite of mine. It is a self-contained, 100% drop-in, adjustable trigger ready to install for an exceptionally smooth, crisp, two-stage trigger pull. No gunsmithing, fitting, or adjusting mil-spec receivers is required. The pull weight is user adjustable from 1½ to 3 lbs. The first stage is 0.5 lbs., and the second stage has an adjustability range from 1 to 2.5 lbs.
The trigger housing is constructed of military-grade, 6061 T6 alloy that is CNC machined using state-of-the-art equipment and is anodized for superior durability. The trigger is also CNC machined, heat treated and coated. The A2 tool steel sear and disconnect and S7 tool steel hammer are wire EDM cut, heat treated to 58-60 Rockwell and Teflon-nickel coated for lubricity and dependable, long-lasting service life.
Hands-On
The performance with this trigger is nothing short of amazing. That ultra-light first stage gets you ready for precision or fast shots whether you are using your Springfield SAINT rifle for hunting, competition, training, work or just fun.
For testing, I used Norma Precision ammo. Norma is well known for making great ammo across the spectrum from frangible, self-defense, match and hunting ammo, to fulfill your needs for whatever you are using your Springfield SAINT Victor rifle.
Coming from a background of almost all single-stage trigger usage, it did take a bit of getting used to for me. But once I made the connection, this trigger came alive. The materials and coatings on this trigger are going to give you the best in reliability and longevity. The feel of the trigger shoe is very nice, and the reset is still very solid and tactile — even at the lighter settings. The design of the flat shoe is what I prefer over curved designs, and flat shoes seem to help me when I am working on shooting fundamentals.
One of the best parts of this trigger is the fact it is fully adjustable. With a quick turn or so of that top Allen head, you can go from ultra-light precision match weight to "having fun at the range" weight without having to remove anything from the rifle. It's as simple as removing the rear takedown pin, exposing the trigger group and doing a quick adjustment up or down.
The installation process is simple: Ensure the weapon is safe and unloaded, remove all ammunition from the work area before beginning, then remove the pistol grip. Ensuring you don't lose your spring and detent, remove the safety selector and remove the old trigger and drop in the new one. Quickly fit up your trigger pins or anti-walk pins, and then re-install your safety and grip. From here we can adjust the trigger group set screws then add a dab of thread locker to the anti-walk pins, should you decide to use them. Now, you're good to go.
So now you not only have a great trigger in your SAINT, but you have a nice splash of color if you're into that. When testing the adjustable design, if you get a failure to reset, it is likely because you have backed out the adjustment screw too far. You will need to adjust it slightly until you get the weight and function you want.
Training to the New Trigger
Even though the SAINT has a great flat-faced factory trigger, this drop in will be a vastly different feel and function style. I would highly suggest not only dry practice at home or on the range, but do plenty of low-round drills to get used to the new style of trigger feel and function. Also, take the time to use that two-stage design to maximize performance for some longer shots. You will break yourself into the new trigger pretty quickly, and likely have a smile the whole time. I know I did!
Editor's Note: Be sure to check out The Armory Life Forum, where you can comment about our daily articles, as well as just talk guns and gear. Click the "Go To Forum Thread" link below to jump in!
Join the Discussion
Featured in this video